4 advantages of living in a condo tower with common areas
29 November 2021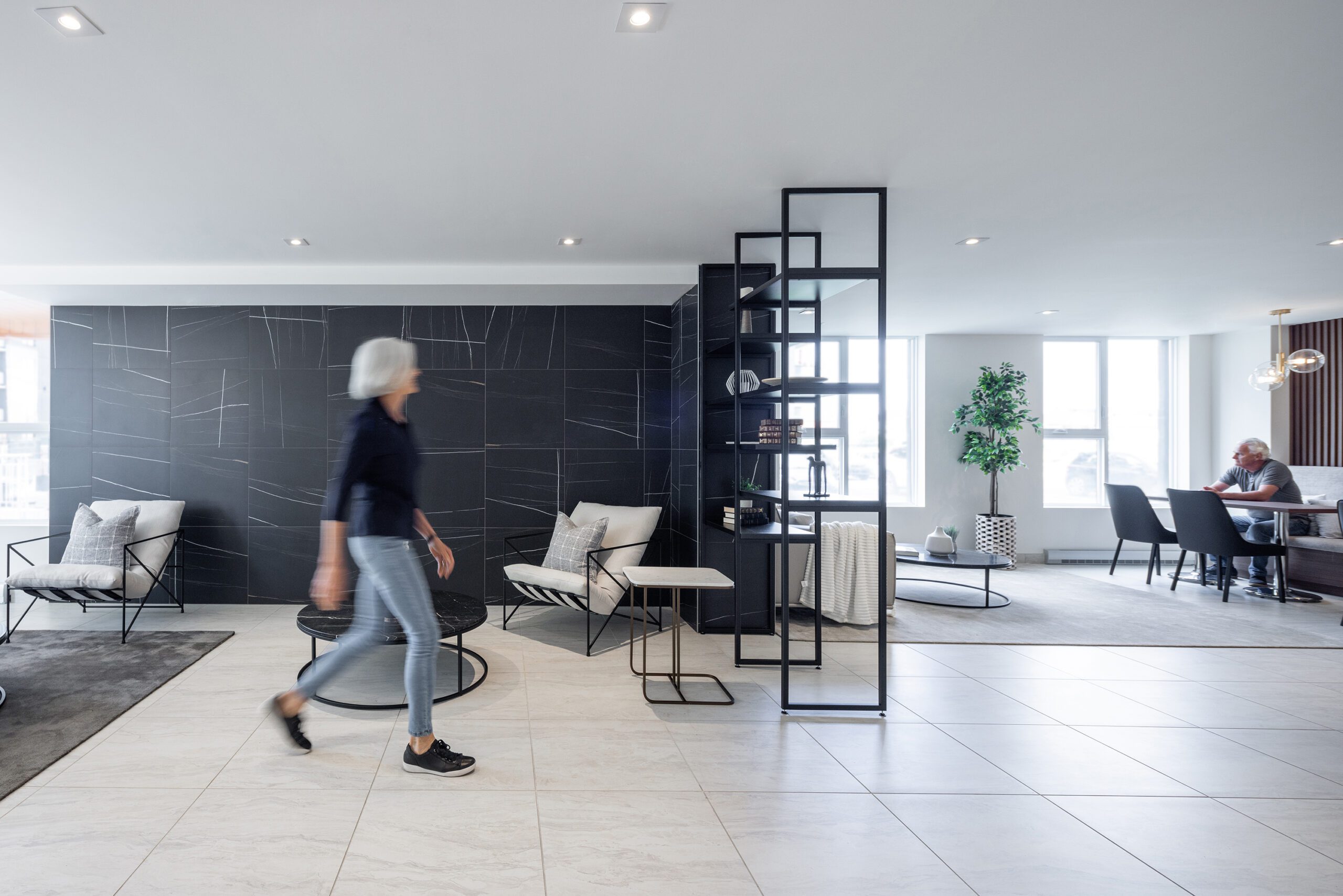 There are several determining factors when it comes time to choose an apartment or a condo.
We dream of settling in a pleasant environment, we visualize what our daily life will look like in this place, we plan visits…
And sometimes we are disappointed standing in an outdated apartment, in a poorly located neighbourhood or one that offers no advantages.
Condos with common areas, such as a swimming pool, a gym, co-working spaces and others, and offering an ideal living environment for young families, retirees or young professionals are very popular these days.
These spaces' community atmosphere allow gatherings in addition to providing additional living space. Here are 4 advantages of living in a condo tower with common areas.
1. Meet new people
Common areas are ideal for connecting with your neighbours!
Several condo complexes have a roof terrace, an outdoor swimming pool, and even a game room (pool table, ping-pong, etc.). These common areas are conducive to discussions and create a friendly and relaxed atmosphere. Like a cozy bar right in your home!
Choosing a rental complex with common areas means living in a community and having the opportunity to meet and socialize every day.
2. Adopt a healthy lifestyle
It isn't always easy to adopt a routine that allows you to make physical activity part of your daily life. Being able to exercise in a state-of-the-art gym without leaving your home makes it much easier to manage your schedule. It's also highly motivating!
Among the common areas offered in condo complexes, there is often a training room, a swimming pool (indoor and / or outdoor), and sometimes even a room dedicated to group lessons.
There's no more beneficial way to make physical activity part of your lifestyle than with easy access to sports facilities. What a joy to be able to integrate a training session or a few lengths of the pool on your schedule!
The atmosphere of these common areas is also friendlier than a municipal or private sports complex.
3. Get away from it all without leaving the comfort of your home
Living in a complex with common areas means giving yourself the chance to have fun, to get away from it all for a few hours, without leaving home. We don't always have the time or want to travel by car or public transport to indulge in a moment of relaxation.
The common areas become an extension of your apartment. They are part of your living space and offer lots of possibilities to get out of the routine for a few hours.
After a busy day at work, you can choose to read in the common relaxation area, relax on the rooftop terrace, or release all your tensions at the gym.
You are sure to find a complex with common areas that match your interests!
4. Store your personal belongings safely
The common areas offered in condo complexes also have additional storage spaces. These spaces are designed to simplify your daily life and facilitate your activities.
Here are some examples of available storage:
Bicycle storage
Storage lockers
Indoor parking
PO boxes and postal service
All of these secure storage spaces will allow you to live in maximum comfort and not overload your living space (by storing your bike there for example).
Discover our most recent condo towers
Plan A offers you a wide selection of rental condo complexes in Québec. All of our buildings have modern and elegant common areas designed to provide a high quality of life to our residents.
Visit our website to discover our most recent projects in Montréal, Laval, Vaudreuil, Québec City and Saguenay.